Ken Manning was born in Alliance, Alberta on February 2, 1921. Brought up in a musical family, Ken learned to play the guitar, mouth organ, and accordian. An interest in music and and a lifetime of woodworking experience has destined Ken to become an internationally renowned craftsman of perfect miniature replicas of historic and contemporary stringed instruments.

In 1987, Ken became recognized as a Fellow of the International Guild of Miniature Artisans. Each instrument is crafted to the 1" scale, hand-signed inside and comes with a certificate of authenticity.

Many pieces of the Ken Manning Collection have been on display at such museums as Musee de la Civilisation, Quebec City; Tee Ridder Miniature Museum, New York; Canadian Craft Museum, Vancouver; and Elements of Style, International Guild of Miniature Artisans.

Ken's instruments are created from many different varieties of wood and often the same wood as those found in the full scale instruments. Nylon monofilament lines in a variety of strengths are used to string his instruments. Bows are made of wood, while bowstrings are crafted from nylon thread.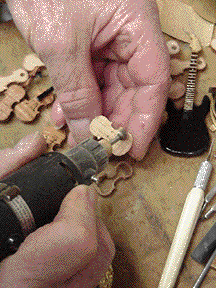 Unique pieces such as the intricate Italian Mandora are extremely challenging and take approximately 50 hours to complete. Ken uses real bone for his tuning pegs, frets and bridges. Turning 12 tiny bone tuning pegs for each Mandora rivals the task of hand carving the tiny scroll on the head of the miniscule violin. Each violin also comes with a case which is carefully shaped to the contours of the instrument, and a velvet lining provides an elegant finishing touch.
Attention to the finest detail characterizes The Ken Manning Collection. Each instrument is completed with 15 coats of lacquer, hand rubbed and polished creating a brilliant finish.